Master Gunnery Sergeant Holly James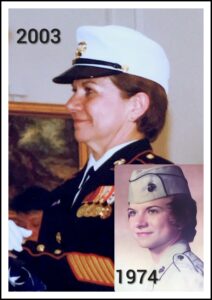 United States Marine Corps Reserve
5 October 1973 – 1 November 2003
MOS 5811
Master Gunnery Sergeant Holly James was born and raised in Shamokin, Pennsylvania, graduating in June 1968 from Shamokin Area High School.

In 1970 she graduated from Centenary College, Hackettstown, New Jersey with an Associate in Arts Degree in Merchandising. She enlisted in the United States Marine Corps on October 5, 1973, and reported for active duty on January 2, 1974. After completion of recruit training at Parris Island, South Carolina, Private First Class James attended Aerographer's Mate School (Class A) Naval Air Station, Lakehurst, New Jersey and was then transferred to MCAS Quantico, Virginia where she worked as a weather observer.
In 1976, Corporal James was selected for Recruiting Duty and attended Recruiter School, MCRD San Diego, California. After graduation in December 1976, she was transferred to Recruiting Station Harrisburg, Pennsylvania and stationed in RSS Wilkes-Barre where she worked as a Recruiter and later as the Armed Forces Enlistment Processing Station Liaison in New Cumberland. While there she was promoted to the rank of Sergeant.
March 1978 Sergeant James was transferred to MCAS Futenma, Okinawa, Japan where she worked as a Drug and Alcohol Counselor. There she was promoted to Staff Sergeant on 1 December 1978. Upon returning to the United States in 1979, she attended Aircraft Maintenance Administration School, Meridian, Mississippi and was assigned to I&I Duty at MAG-49 NAS Willow Grove, Pennsylvania.
In October 1981, Staff Sergeant James transferred to the SMCR. Her MOS was changed to 0193 Administration Chief and she was assigned to the following reserve units: 1981 – 1983, Company #, 2ndBn, 24thMar, 4thMarDiv, Harrisburg, Pennsylvania where she was promoted to Gunnery Sergeant in 1982; 1983 – 1985, WTS-47, MWSG-47, 4thMAW, Philadelphia, Pennsylvania; 1985 – 1986, BtryH, 3dBn, 14thMarDiv, Richmond, Virginia; 1986 – 1988, H&MS – 46 Det A and HMM-774, 4thMaw, MAS Norfolk, Virginia; 1988 – 1991 IMA Detachment, Marine Corps Mobilization Station, Richmond, Virginia. In 1988 she graduated from J. Sergeant Reynolds Community College with an Associate in Applied Science Degree in Legal Assisting.
In February 1991, while stationed at Marine Corps Mobilization Station, Richmond, Virginia, Gunnery Sergeant James was mobilized to active duty in support of Desert Shield/Desert Storm. Her unit's job was to process and activate IRR and retired Marines back into active duty. Later that year she completed the Reserve Resident Advanced Course at the Staff NCO Academy, Quantico, Virginia.
In January 1992, Master Sergeant James was assigned as an IMA Reservist with Reserve Affairs at Quantico, Virginia. There she drilled and precipitated in a number of Active Duty Special Work Order (ADSW) projects. In May 1992, she worked as Admin Chief for the Reserve Course at the Amphibious Warfare School. February through May 1994, while assigned ADSW with the Warfighting Development Integration Division, she assisted in the publication of Marine Corps Lessons Learned CD-ROMs on Desert Shield/Desert Storm. Later that year Master Sergeant James also completed a four-month period of ADSW at the Staff NCO Academy where she helped develop the Reserve Course Curriculum.
From November 1995 through June 1996, while assigned to WDID (Warfighting Development Integration Division), Master Sergeant James was activated as a member of the Southwest Asia Declassification Team, which declassified over 100 binders of classified materials in search of information pertaining to Gulf War Syndrome.
After the declassification project was completed, Master Sergeant James was released from active duty in June and was hired as a patrol deputy with the Hanover County Sheriff's Office, Hanover, Virginia. In December 1996 she graduated from the Rappahannock Regional Criminal Justice Academy, Fredericksburg, Virginia where she received the Physical Fitness Achievement Award. Upon completion of the police academy, she was transferred to the IMA Detachment, MCB Quantico, Security Battalion and assigned the Military Policeman MOS. She worked in the Criminal Investigation Division (CID) where she assisted with evidence gathering, interrogations, and witness interviews. She was promoted to her present rank of Master Gunnery Sergeant on 1 January 1998.
In February 2001, she transferred to the Operations Section at Security Battalion and worked with the road patrol platoons as a field-training officer (FTO) and training classes in legal updates under the Virginia Criminal and Vehicle Code.
On October 9, 2001, Master Gunnery Sergeant James was mobilized in support of Operation Enduring Freedom. While serving these final two years of active duty at MCB Quantico, Security Battalion, she held the billet of Military Police Services Officer in charge of the Vehicle, Pet and Weapons Registration Office.
On March 27, 2002, Master Gunnery Sergeant James was a guest speaker for Women's History Month Luncheon aboard the base. Also, during her time there she assisted in teaching Women's Self-Defense and Rape Prevention Classes held quarterly aboard the base.
During her last active duty period, Master Gunnery Sergeant James completed the classroom requirements with Bluefield College and graduated in May 2004 with a Bachelor's Degree in Criminal Justice.
Master Gunnery Sergeant James completed 7 ½ years of active service and 22 ½ years in the active reserve components. Upon her retirement, total service time was 30 years and 27 days. During that time she held the following MOSs officially or unofficially: Weather Observer (6821); Recruiter (8411); Aircraft Maintenance (6046); Administration Chief (0193); Legal Services Specialist (4421); Criminal Investigator (5821); Military Police (5811).
Her awards and decorations include: Navy and Marine Corps Commendation Medal; Good Conduct Medal with bronze star; Selected Marine Corps Reserve Medal with silver star; National Defense Medal with 2 bronze stars; Global War on Terrorism Service Medal; Sea Service Deployment Ribbon; Marine Corps Recruiting Ribbon; and Marine Corps Reserve ribbon with Mobilization "M" (2nd) and silver hourglass.
After retirement on 1 November 2003 from the Marine Corps, Master Gunnery Sergeant James went on to retire from careers in both Hanover County, Virginia, and from FBI Las Vegas where she was the Community Outreach Specialist and member of Evidence Response Team (ERT) for eight years. She is now living in Mechanicsville, Virginia. She has three children, Phillip J. Dietrich, and Dorothy L. Dietrich both live in the Richmond, Virginia area and step-daughter Tina Becker in Charlotte, North Carolina. She has one grandson and two granddaughters.