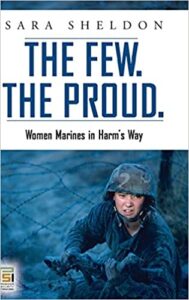 It was Deja vu for me reading Sarah Sheldon's The Few. The Proud. Women Marines in Harm's Way. I loved meeting these women through their stories, women Marines  who 'carried on' after my retirement in 2003.
In 2005, this 70-year-old author/journalist donned a Kevlar helmet, flack jacket, and traveled to Iraq to interview women Marines stationed at Camp Fallujah. (I print her age because she opens the book admitting it). This strong, brave, tough lady went into a war zone with none of the formal training provided to the Marines.
Ms. Sheldon proved herself worthy of these interviews by living, eating, and sleeping in the same conditions as these women, twenty-four hours a day. Spending so much time and energy earned their trust. She was able to attain honest personal answers from the women she interviewed; why they joined the Marine Corps, their jobs, and how they dealt with the dangers they faced daily. The Marines openly talked about home, families, children, jobs, and their plans for the future. Some left civilian positions volunteering to return to active duty for this tour. Ms. Sheldon included women of all ages and ranks. As I read, I could feel the pride and camaraderie from the women telling their story. I missed that and wished I could have been there.
Thank you, Ms. Sheldon, for giving these women a voice to be heard by the world. As I write my memoirs, "Diary of A Master Gunnery Sergeant," the pre-sequel to your book, I would be curious to hear your thoughts about 1974's WM's who went from wearing wigs, girdles and Revlon's Little Red-Red Lipstick" to becoming the Women Warriors you met in Iraq.
I highly recommend this book to anyone who wants to know what its like to be a woman Marine on the battlefield. You get to hear directly from the women and see pictures of each, making their stories come to life.
'The Untold Story of the Women Who Took On the U.S. Government
to Bring Their Husbands Home'
By Heath Hardage Lee
            I discovered this book and its author through Twitter. Although not a memoir, I could see right away that this was an incredible story of women who took on the U.S. government to get their POW/MIA husbands home from Vietnam. After reading about the book on Ms. Lee's website and learned about her touring the country and military bases along with some of the wives she wrote about, I did not hesitate to order both the book and audio version, recorded by Heath Lee herself. This book has become one of my ALL TIME FAVORITES!
"League of Wives" is the story you won't see in a documentary about the Vietnam War. Those specials dwell on what the government was doing in that war and what the men endured as prisoners. Back on the home front were the wives and children left behind without support of husbands, fathers, or their government. Most were wives of officers who had learned in the Officers' Wives Handbook—"Don't do anything to embarrass or jeopardize your husband's careers." But after years of waiting and getting no answers, enough was enough! The wives joined forces and took on the government.
Ms. Lee did a beautiful job with her research and attention to detail. She interviewed many of the wives who are still living, prisoner of war John McClain, and Bob Doyle, to name a few. You get to know the women and their struggles and start to understand what they had to deal with the time the first plane was shot down in 1967. Tired of waiting for answers from the government, who wanted the situation hidden away from the public, they came together and organized themselves taking on the government.
The book includes the history of the POW/MIA flag and the POW/MIA bracelets*, so many of us wore.  The women used a secret code to get messages to and from their husbands in letters, always fearing their husbands would be killed by the NVM if they found out.
Most of the help came from outside the government, and you will learn about Ross Perot's assistance and the involvement of the peace activists like Cora Weiss. You will feel the wives' frustration and will be appalled when you read that Bob Dole was the first senator to bring their plight before Congress in 1970, only to find that many members of Congress didn't even know what POW or MIA stood for! (Congress was just as clueless then as it is today!)
I gave the book five stars! I wasn't the only one who loved it. Reese Witherspoon bought the movie rights! I can't wait for it to hit the big screen. So I challenge you to read this book FIRST! Click on the link above that will take you to Amazon.
Congratulations! Ms. Lee
Much Success with this and your FUTURE projects!
*Major Perry Jefferson – Capt. Perry H. Jefferson, USAF was the name engraved on my POW/MIA bracelet. After wearing the silver bracelet for years, I removed it for the first time before boot camp (NO jewelry allowed). While I was gone, my niece wore it and returned it to me after graduation. Unfortunately, with years of wear, it broke while I was making my rack at my first duty station, Areogphers Mate School at NAS Lakehurst, NJ. I remember the loss and sadness I felt and in 1974 there had been no updates on his MIA status. I kept the bracelet and traced his name from the Vietnam War Memorial in Washington D.C.
Major Perry Henry Jefferson, U. S. Air Force  – 37-year-old from Colorado. Capt. Jefferson failed to return from an observation mission on April 3, 1969. In 2001, a Vietnamese national living in California turned over his remains to U.S. officials stating that they were recovered at a site where two U.S. pilots crashed. In 2007 he was identified and his remains were turned over to his family. Capt. Jefferson was post-humorously promoted to Major. Thirty-nine days from the day he disappeared, he was buried with full honors in Arlington National Cemetery.

'The Enigma of Women in the United States Marine Corps'
by Connie Brownson 
This telling work directly addresses a critical issue within today's US military. In contrast to the militant tactics of radical feminists or "living legends" vignettes, the research offered in this title presents female Marines' experiences, opinions, and suggestions for women's success in the USMC. The women interviewed by the author live the experience, providing nuanced, sometimes colorful, details of day-to-day military life that can never be captured by climate surveys and Likert scales. They share their mistakes, heartbreaks, successes, and love of God, Country, and Corps. They allow us to experience vicariously the enigma of being a female Marine. Not essentialist but pragmatic, their sense of kinship and equivalence provides a practical foundation for comprehending and, perhaps, "fixing" what allegedly is wrong with the U.S. military's sex/gender relations.
CONGRATULATIONS Connie on "Lady Leathernecks," a well-written, interesting, and informative history book that every woman Marine, past, present and future should read. An inside look at the progression and changes, both positive and negative, women Marines have gone through since WWII. I originally bought this book to research my own memoir telling the story of my 30 years in the Marine Corps (1973-2003). It was a huge help in checking dates of the vast changes women went through during my 30 years in the Corps.
Connie did her research on the history of women Marines. She shares the changes through hundreds of interviews with women telling very personal stories and thoughts about serving in the Marine Corps. These heartfelt interviews make the book so special. Once I started reading stories from all my sister Marines, I couldn't put the book down. This book is our legacy. The young women Marines today, and women contemplating joining the Marines, need to know this in order to carry on.
Connie, Please take your book to the next Women Marines Association Convention!